Suits all Australian Vehicles. Fully featured tracking system & anti-theft. Live web tracking and mobile phone SMS alerts. Ability to remotely immobilise your vehicle or activate the alarm.
Applications: 
Personal vehicle tracking (cars, 4WDs, caravans, utes)
Bus and coach tracking
Company cars, utes, vans and truck tracking
Machinery tracking
Boats, jet-skis, etc tracking
Benefits:
Inexpensive tracking solution for one or more vehicles
24/7 monitoring of cars, caravans, vans, trucks, machinery, etc.
Ability to remotely disable the equipment, vehicle, machinery, etc.
Ability to integrate to an existing vehicle alarm.
City-wide and regional 3G communication technology
Real time Live Tracking WEB based mapping & management tool
Reports on inefficient staff and assets
Improves customer service by reducing response times
Reduce mileage and vehicle abuse
Safeguard your staff and assets
Reduce insurance premiums
Includes FREE tracking mobile phone app (Apple & Android versions)
Features:
Communicates via the 3G / NextG mobile phone network
Harsh Driving / Harsh Acceleration / Crash Sensor (in-built)
Overspeed reporting (user defined, GPS measured e.g. You choose to set to over 110 km/h)
Backup battery in case of power cut to the main supply
Reporting every 3 minutes whilst the vehicle is moving (optional: every 1 minute)
Reporting every 60 minutes when the ignition is off (optional: every 30 minutes)
Full access to trip history and web reports
24/12V compatible
3 digital inputs and 2 digital outputs (for vehicle alarm inputs/outputs, lock doors, etc)
Compact size measuring 80mm (l) x 47mm (w) x 26mm (h)
AST Tracking Options
To locate your vehicle (or asset) you can use:
(1) The FREE AST mobile phone app and (2) The AST Live Tracking system
The AST Live Tracking system has additional benefits of 6 month recording of each location message sent by the tracker (usually every 3 minutes), whereas the mobile phone app will only let you know where the vehicle (or asset) is right now (i.e. no trip history).
Live Location Tracking
Views on your choice of Google or Bing maps. See all your vehicles on the same map in real-time.

Trip History
Trip history and location data stored for up to 6 months with older data available via archive allowing you to go "back-in-time" to view any day or time.
Better Route Management
See where all your vehicles (and assets) are and improve routing for drivers, reduce fuel costs and speed up customer delivery and service times.
Vehicle / Asset Usage
Find out how effectively your business vehicles or assets are being used.
Driver Behaviour
Monitor specific drivers on a daily basis.
Set alerts for speeding or harsh driving
Run weekly or monthly reports on driving behaviour.
Utilise RFID driver identification (optional) if different drivers are using the same vehicle.
Anti-Theft
Instant theft notification with the ability to remotely* shutdown the vehicle (or asset) from anywhere in the world.
(*Using wired trackers only).
Significantly Improve Theft Recovery
Even days after the theft you can see the track of when and where your vehicle (or asset) was stolen leading all the way to where it is now.
Easy Geofencing
Geofences are set 'virtual' location perimeters. For example, a 100m perimeter can be set around the vehicle's current parked location or designated locations such as garages. 1000m* geofences could be set around depots or work sites.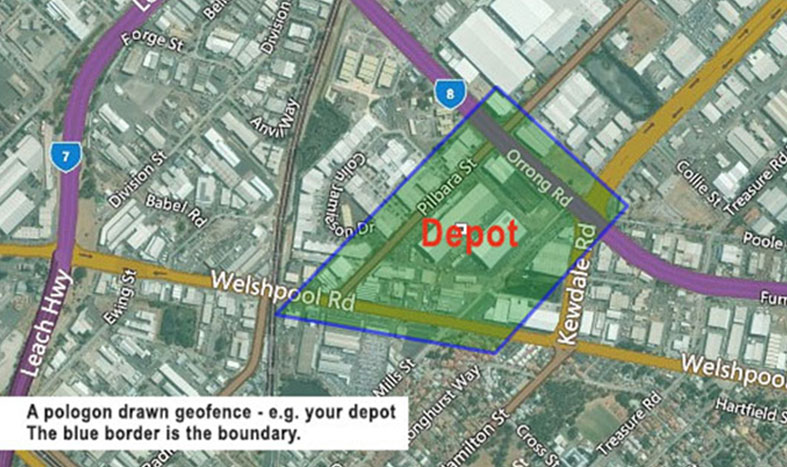 *The user of the Live tracking system has full control of the geofence size in metres and where they are set. Mobile phone and email alerts can be set when vehicles exit goefence locations informing the owner or the fleet manager that the asset or vehicle has been moved. With the AST Live Tracking system, custom shaped geofences can be drawn and unlimited geofences are available for use.
Sites
Use sites for easy report generation of fleet depot(s) or major customer locations. Reports will show when vehicles enter and exit sites.